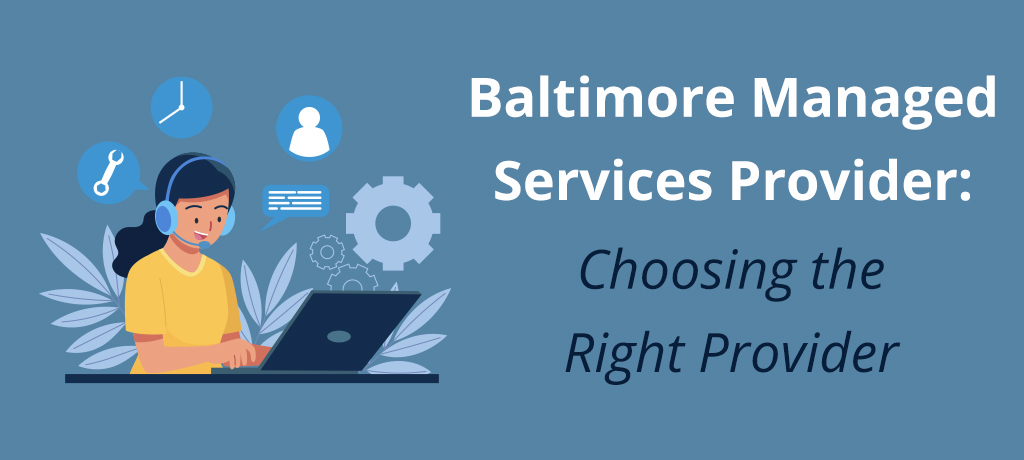 An information technology (IT) infrastructure is one of the most valuable assets within any business, big or small. It enables a company to be more productive, reaches new customers, and set itself apart from the competition.
However, inadequate IT management can lead to downtime, compromised data security, and frustration for users - all of which can hurt your revenue and reputation.
Although most business owners know the importance of their IT, many lack the technical knowledge or time needed to manage it on their own. Operating an efficient and secure IT infrastructure can feel like a full-time job, especially when juggling the requirements of running a business.
That's where managed IT services come in.
A managed IT services provider is a third-party company that remotely maintains, protects, and supports all aspects of a business's IT infrastructure. They have the necessary technical knowledge and expertise to manage a company's IT, which allows business owners and their employees to focus on growing their companies.
There are plenty of small to mid-sized business owners in Baltimore, Maryland, that could benefit from managed IT services. Baltimore, which was recently ranked among the top U.S. cities to start a business in, has a very competitive market.
Baltimore business owners need to ensure their IT systems are operating at optimal levels to stay competitive in such a market. A managed IT provider can help them do just that.
Do you need help managing your business technology? Here is everything you need to know about managed IT services in Baltimore.
What is a Managed IT Services Provider?
Before entering into an agreement with a managed IT services provider, it's important to have a clear understanding of what these third-party companies are.
A managed IT services provider gives your business access to a team of IT professionals who oversee your technology needs. These technicians are entirely dedicated to supporting your IT infrastructure and all your users.
The goal of any worthwhile managed IT provider is to equip your business with IT solutions that optimize performance and foster long-term success.
A Baltimore managed IT services provider like ours will support your business by:
Implementing better IT solutions
Providing advanced network security
Providing 24/7 assistance
Offering customized service plans Minimizing company downtime
Ultimately, a Baltimore managed IT services provider acts as a remote IT department for your business and eliminates the need for expensive internal IT support. That can be incredibly valuable when it comes to productivity and competition.
Why Invest in Managed IT Services?
Now, let's discuss some of the top benefits a great provider can offer your Baltimore business.
1) You'll Have Better Cybersecurity Protocols
No matter the size of your business, cybersecurity should be taken seriously.
Cybercriminals are constantly searching for vulnerabilities in a business network and are attacking companies at an increasingly rapid rate. Last year alone, there was a 424 percent increase in cyber breaches targeted at small to mid-sized businesses.
A cyberattack can have a devastating effect on your company. It can cost you thousands of dollars and cause irreparable damage to your reputation. In many cases, businesses are forced to shut down completely after suffering an online attack.
A managed IT services provider will significantly minimize your cybersecurity risks.
Worthwhile IT providers will implement advanced, multi-level security protocols to protect your network from cyber threats. These defenses will be managed and maintained by trained cybersecurity experts who stay one step ahead of cybercriminals. They will constantly be on the lookout for new dangers and adapt their defenses accordingly.
2) They Offer Around-the-Clock Support
If a system failure or cyberattack occurs within your network, it will need to be dealt with quickly. Otherwise, it could lead to major disruptions and long-term damage to your business.
A quality Baltimore managed IT services provider will be available 24/7 to respond to any emergencies that arise. They will have direct access to your networks and servers, so they'll be able to address any issues immediately - even if the problem occurs or after your regular business hours or over the weekend.
When choosing a managed services provider, it's a good idea to see if they guarantee >quick response times to IT requests. If they do, then you'll be able to get your business back up and running as fast as possible, minimizing the chances of any lasting damages.
3) You Will Receive IT Solutions That Boost Productivity
Lastly, a managed services provider will analyze your current IT system and recommend solutions that will enhance internal productivity. This might include upgrading or replacing outdated systems, implementing new software, or using mobile devices to increase team collaboration.
A quality IT provider will not offer your business any unnecessary solutions - only ones that will improve your systems and contribute to your specific goals. They will consider factors such as your company culture, budget, and IT needs before recommending customized service solutions.
In addition, managed services providers often have relationships with the top IT software vendors and can get you special deals and discounts. This means they may be able to provide you with upgraded technology for lower prices than if you were purchasing directly from the company itself.
What Are the Top Services to Look for in a Local Provider?
You know how a great provider can benefit your business, but let's discuss some of the top services to look for in a great Baltimore managed IT services provider.
1) VOIP Solution
If your business is relying on an outdated phone system, you may want to consider a managed IT provider that offers Voice over Internet Protocol (VoIP) services.
VoIP is designed to address all the issues that plague traditional phone systems, especially outdated calling features and problems with poor voice quality.
VoIP offers a great deal of flexibility when it comes to placing and receiving calls. It allows you to place calls over the internet, which means you and your employees can take business calls from anywhere on a mobile device. That's extremely valuable in today's remote work society.
2) Data Backup and Disaster Recovery
If a cyberattack or natural disaster were to wipe out your computer network, you would lose all the data that is stored on the servers.
To prevent this from happening, a great Baltimore managed IT provider can implement a disaster recovery solution for you.
This entails automatically backing your data to a remote location, like managed IT services facility or the Cloud. When a disaster strikes, the managed IT providers will have a backup copy of your data and can quickly restore it on new servers.
3) Application Development Services
Your business may need more help than generic software solutions can provide, especially if your business operations rely heavily on IT.
A worthwhile Baltimore managed IT services provider can develop customize software and applications solutions for your business that will help you grow. These programs will be made for your unique business needs and will help streamline your operations.
How Do You Find the Right Baltimore Managed IT Services Provider for Your Business?
Not all managed IT providers offer the same level of service, so it's important to choose carefully. Here are a few questions to ask yourself before partnering with a provider.
1) Do They Have an Experienced IT Team?
It's essential to choose a managed IT services provider with the training and experience needed to effectively maintain and protect your IT infrastructure. If they aren't skilled enough to meet your needs, you might wind up with poor security and performance.
You should check Baltimore managed IT services providers' websites for certifications that demonstrate their level of expertise. They should also have a professional portfolio showcasing their prior project success stories.
2) Are Their Service Plans Scalable?
Your Baltimore managed IT services provider should be able to give your business a managed IT plan that is customized to fit all your different needs and offer high-quality services at an affordable price.
To do this, an IT provider should take the time to get to know you and your business. Then, they should ask you about your business goals and how you plan to use your technology to achieve those goals.
A good managed IT provider will also want to get familiar with your company and learn about your specific pain points, so they can find ways to help eliminate them. They should never offer you generic, "one-size-fits-all" service plans that are set at a fixed price.
3) What Do Their Clients Have to Say About Them?
It's a good idea to look at reviews and testimonials from past and current clients to see how they feel about the provider. These are usually listed on the managed IT service provider's website or are available upon request.
If most of the reviews and testimonials are positive, you can feel more confident in the managed IT service provider.
A quality Baltimore managed IT services provider will be proud to show you references from past clients and will be able to tell you how they managed to help them. A managed IT services provider that is not willing to provide this – or seems a little bit suspicious when you request it - may not be as trustworthy.
In Conclusion
As you can see, a managed IT services provider can make a huge difference for your business and help take a lot of the pressure off you and your team. They can equip your Baltimore business with the IT solutions needed to achieve long-term success and growth.
How will your Baltimore business benefit from working with a great managed IT services provider? Let's find out together.