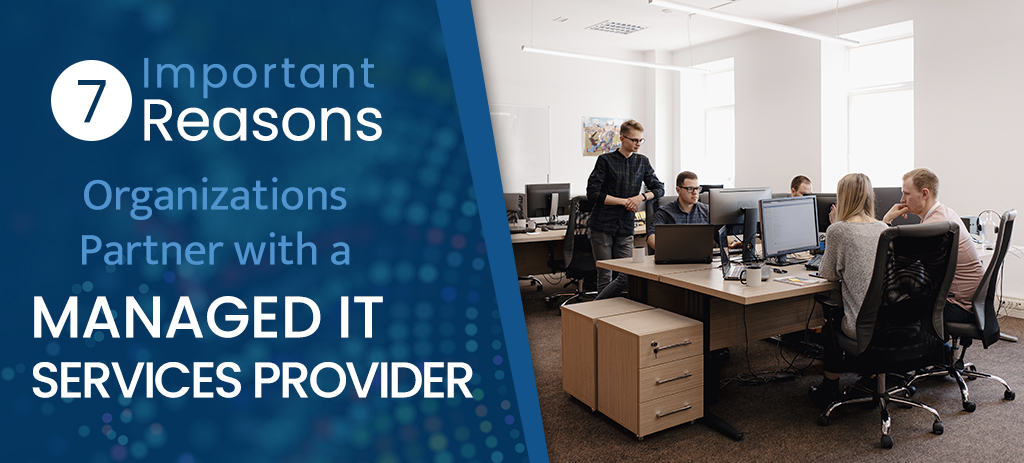 Technology requirements for organizations keep evolving and so do concerns of possible downtime and data loss. Organizations should, therefore, focus on streamlining business workflows as well as effectively managing their IT infrastructure. This can be achieved by closely monitoring their IT environment.
A Managed IT Service Provider (MSP) can help organizations by providing top-notch management and maintenance of their IT infrastructure, along with continuous support and services.
It is predicted that the managed IT services market will grow from USD 180.5 billion in 2018 to USD 282.0 billion by 2023 at a CAGR of 9.3%.
Having said that, we have consolidated a few reasons why it is important for organizations to partner with managed IT service providers. Check them out right away!
Enables Cost Savings
In-house maintenance of IT infrastructure can be heavy on the budget, especially for small and medium-sized businesses. This process involves spending on tools that may vary, based on the organization's shifting IT needs. Over time, a few tools may remain unused, while the requirement to acquire new tools persists.
When you utilize outsourced IT support, you get access to and the advantage of using only the most advanced tools and applications that are most suitable for fulfilling your business's specific needs.
Furthermore, the pay-as-you-go model that MSPs offer requires you to pay only for the tools and services you use. As the service provider already has the workforce and the tools to set up a robust IT infrastructure, your operational costs and IT expenses reduce drastically. You can redirect your funds to core business functions, enabling huge cost savings.
Helps Focus on Core Business
A managed service provider works as an extension of your IT department by taking complete charge of your technological requirements. This eliminates the need for you to invest funds in a dedicated in-house IT team and allows focus on improving your core business functions.
You should consider finding a trusted managed IT services provider in your neighborhood. This is because local MSPs are readily available for a spontaneous in-person visit to deal with any kind of IT emergency. Also, in case a natural disaster occurs in your area and your IT systems are affected, they will be available to restore them ASAP, minimizing business losses.
If your organization is set up in Reston, for example, zeroing in on a reliable provider of managed IT services in Reston will serve the purpose.
Facilitates Scalability
Businesses will need to scale up or size down their infrastructural resources based on changing requirements. Scalability is important for organizations to handle growing technological demands. MSPs equip businesses to manage unexpected spurts in technology demands and/or concerns. They also help address issues due to a sudden demand for resources and infrastructure, thereby supporting business continuity.
Scalable solutions offered by MSPs will help you remain productive and boost system performance, irrespective of the changes in your infrastructure.
Minimizes Downtime
Unexpected crises and disasters do happen. Your organizational infrastructure should be prepared to deal with unprecedented downtime, which can negatively impact its overall functioning. It may disrupt workflows, causing untold damage to your organization's credibility and ability to operate uninterruptedly.
Managed IT service providers offer solutions for regular data backup and disaster recovery. This way, even in case of data theft or a ransomware attack, you can use your backed-up data, thereby minimizing downtime and interruptions in your day-to-day business operations.
Improves Security and Ensures Compliance
Industry regulations and data compliance demand constant updates, consuming a major amount of business capital. However, with an MSP in place, you can rest assured that all your compliance-related needs will be taken care of.
MSPs regularly update technical processes and workflows based on the latest compliance and regulations. This way, your infrastructure is also automatically updated at minimal or no extra costs.
Furthermore, MSPs are aware of the cybersecurity risks posed by fraudsters. They ensure to take safety measures to safeguard your data. Countermeasures like multi-layered firewalls, anti-virus software, anti-spam monitoring protocols, and secure asset management are deployed by MSPs. These measures reduce data vulnerabilities, eliminate chances of a data compromise, and help curb data threats on time.
Offers 24/7 Monitoring and Support
Enterprise systems require regular maintenance. A sudden setback in your infrastructure may heavily impact the day-to-day functions of your organization. This can be addressed by continuous monitoring of the organization's IT infrastructure for technical issues. Predicting and correcting bottlenecks promptly will help eliminate unexpected downtime that results from system failures.
Managed IT service providers offer 24/7 monitoring and support. They constantly have a hold on the functioning of your enterprise system. Any glitch in the system is identified and corrected promptly to avoid operational and functional interruptions.
Moreover, MSPs are highly adaptable and provide both on-site and remote infrastructure support, thereby offering the best enterprise-level monitoring and security.
Provides Access to a Contingent Workforce
57% of business stakeholders believe that in their efforts to onboard the right skills, they are expected to shift the required roles to a contingent type.
This type of contingent workforce is a combination of skills. You may have a tough time looking for the best-suited talent for your organization. An MSP, on the other hand, has access to the right kind of talent pool.
They either maintain them in-house or have direct contacts. This saves organizations the time and effort that is put into bringing together the right skill set for your projects. Your MSP can pick the most suitable candidates for you and ensure timely deployment.
Wrap Up
Companies should prioritize staying on top of their IT operations to ensure that they perform efficiently. It makes perfect sense to shake hands with a competent managed IT service provider as they are equipped with the capabilities to resolve all business IT concerns. Hopefully, the above-mentioned points on minimizing downtime, enhancing cybersecurity, providing access to the right talent pool, offering 24/7 maintenance and support, and more will help you understand the benefits of partnering with a managed IT service provider.