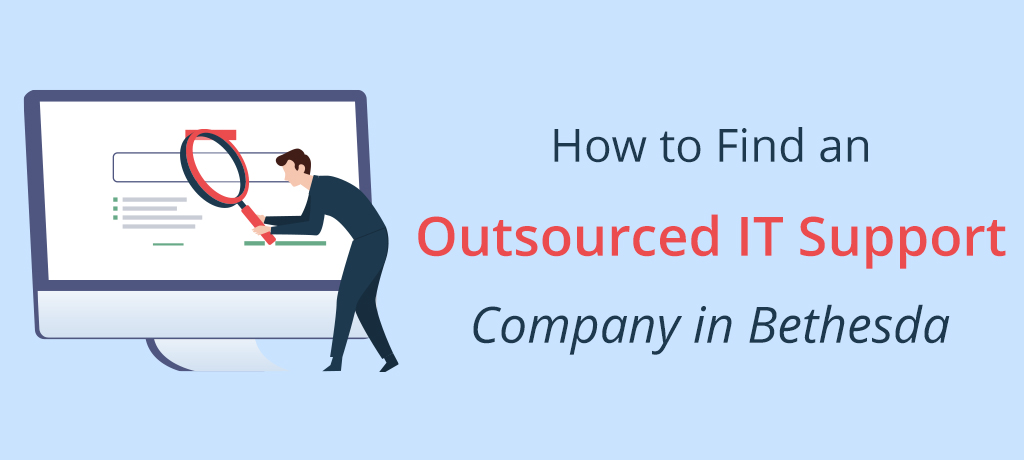 Bethesda, Maryland, offers budding entrepreneurs a myriad of reasons to get excited about. The city's highly efficient infrastructure is ideal for the growth of start-ups.
From the finest amenities to world-class transportation, Bethesda's start-up-friendly environment constantly motivates people to start their entrepreneurial journey.
In fact, it has now emerged as a hot spot for businesses spanning across industries. These include, but are not limited to, biotechnology, healthcare, life sciences, sustainability, and information technology.
Bethesda has been contributing handsomely to Maryland's Gross Domestic Product (GDP) due to its continually evolving start-up ecosystem. In 2019, the state's GDP reached $426.7 billion (15th in the nation), up from $411.6 billion in 2018.
The city's competitive business environment has made it essential for local businesses to take the necessary measures to stay relevant.
IT support services can help Bethesda businesses, including yours, flourish by providing the necessary technical support that boosts their operations.
The fact is, the demand for IT support is growing at an unprecedented rate. According to a report by the Business Research Company, the market for IT services is expected to grow at a CAGR of around 11% to nearly $3,496 billion by 2022.
Clearly, partnering with an IT support company is essential in today's world. So, let's understand how you can find the most suitable IT support company in Bethesda for your business.
1. What Can Your Small Business Expect from an IT Support Provider?
IT support companies comprise specialists that provide businesses with expert guidance and solutions for optimizing their IT environment. They also create an IT strategy in tandem with your business's goals to minimize technological hurdles.
Their team deploys advanced remote monitoring tools to keep an eye on the network 24/7 and reduce downtime to almost zero.  Further, they anticipate, identify, and resolve tech troubles, while implementing preventive measures against issues that can cripple your business.
An IT support company also formulates intelligent solutions to address a business's current and future technology needs. Simply put, they boost overall business efficiency and productivity with technology solutions, resulting in higher customer satisfaction and improved earnings.
IT support companies also play a significant role in the routine installation, management, and maintenance of the business's IT infrastructure. They use the most advanced software and hardware applications that can help the business gain an edge over the competition.
2. Why Should You Consider Consulting an IT Support Company?
A proven IT support company can help you overcome IT challenges that can potentially impede your business's growth. Not only that, in the event of a catastrophe, a proficient IT team can bring your business back on track with minimal interruptions.
Here's a quick breakdown of the reasons why your business could benefit from Bethesda IT support.
Better Focus on Core Competencies  
Honing your business's core competencies can help you innovate and deliver unique value to your customers.
IT support companies provide their clients with access to advanced technologies to help them overcome challenges related to infrastructure management, server and data migration, product acquisition, training, among others.
Further, IT support consultants can help automate daily, repetitive tasks to reduce resource consumption.
To put things into perspective, an IT support company can help your business channel more resources on developing core business offerings and, therefore, staying competitive.
Comprehensive Security Solutions
Security is a big concern for businesses worldwide. Did you know 60 percent of small businesses go out of business within six months of a cyberattack?
As a small business owner in Bethesda, you don't want to be a victim of a cyberattack and lose critical business and consumer data. Hiring an IT support company is the smartest decision you can make to deal with looming cybersecurity threats.
Your business's IT ecosystem may harbor security vulnerabilities that attackers can exploit to gain unauthorized access to your systems. IT support companies deploy advanced endpoint protection systems to keep these cyber threats at bay.
Their team periodically audits every nook of your IT network for weaknesses in the existing security parameters. Further, they devise a plan of action to plug these loopholes and strengthen the network.
The IT support company will routinely monitor your network and keep a constant vigil for irregularities and anomalies. They use the most advanced firewalls and antivirus software to scan your IT environment for malware and viruses. Any abnormalities detected are eliminated, and normalcy is reinstated quickly.
Implement Appropriate Solutions
Given Bethesda's competitive start-up landscape, businesses need the latest technologies that support their specific needs and practices. After all, integrating the most advanced and suitable technology into the existing business systems is paramount for stability and growth.
An IT support company ensures that your business is armed with the latest technology and operates at maximum efficiency. They work alongside the business's internal IT team to integrate advanced systems, such as VoIP and cloud storage solutions, into their existing setup.
Cost Optimization
Hiring and maintaining an internal IT team is resource-intensive. It can consume a large chunk of your IT budget. According to Glassdoor, you may need to pay a salary of $56, 413 USD annually, on average, per IT specialist. Moreover, you need to afford their on-boarding and training costs, medical allowances, and other additional benefits. An IT support company can take the burden of these overhead costs off your shoulders and help reduce your operational costs.
The IT support team proactively maintains critical platforms and applications running your business to maximize uptime. In exchange, you only need to pay a flat monthly fee, thereby keeping your IT expenditures within the set budget.
Reduce Business Disruptions
Businesses often incur losses due to frequent IT failures. According to research, 37% of SMBs have lost customers, and 17% have lost revenue due to extended downtime. To ensure that your IT processes function seamlessly and round-the-clock, you need to have an experienced IT team managing them.
As a small business owner in Bethesda, your limited resources may not be sufficient to meet this challenge. That's where an IT support company can help tremendously. Their scalable resources and proficient team can help keep your systems up and running 24/7.
Simply put, they ensure that you are functional and available to your customers at all times.
3. Questions to Ask When Hiring an IT Support Company in Bethesda
Here are a few questions that you must ask prospective IT providers before deciding on a Bethesda IT support company.
Do You Have a Trained Team?
A proficient IT support team is imperative to your business's success. Your IT company should give you access to a pool of trained professionals adept at managing the entire IT infrastructure.
Technically speaking, they need to have the knowledge and skill for addressing all IT challenges that may slow your business's growth.
As a rule of thumb, ask your prospective IT support team about the training and certifications that their engineers and managers have completed. You may also want to ask about their experience in dealing with day-to-day and unforeseen IT issues.
Do You Maintain Transparency in the Service-Level Agreement (SLA)?
An SLA is a written document that highlights the expectations, and the agreed-upon terms and conditions. Your prospective IT support company must clearly specify all these details in the document.
The agreement should outline the performance parameters and the metrics that will be used to measure the IT support provider's output.
Further, the SLA needs to specify who will be held responsible if there's a breach of contract or the performance parameters are not met. It should also include the strategies and methodologies that the IT support company will implement when troubleshooting infrastructural issues.
What's Your Average Response Time?
Response time is the duration taken by the IT support company to assign an agent in response to a ticket raised by the user. A good response time must be your top priority unless you're okay with waiting for days (or sometimes weeks) to get help (or even acknowledgment of a raised ticket) from your prospective IT support company.
Before you sign the contract, ask them about their average response time to user queries. You can even have it mentioned in the SLA, along with the consequences of non-delivery.
What's Your History of Success?
You should gain a clear idea of your prospective IT support company's reputation before finalizing them. Ask them for references of their current and previous clients. Reach out to a couple of them to ask about the IT company's performance to verify if their claims are true.
Further, you can try reading customer reviews on Google and other third-party websites to better understand the capabilities of the IT support company. You may also go through client testimonials on the IT company's website and social media accounts. Check out review platforms and IT community forums to develop a deeper understanding of their work history.
Wrapping Up
An IT support company plays an integral role in shaping the growth trajectory of a business. They equip companies with the latest technologies, ensuring higher efficiency and minimal downtime.
Hiring an IT support company and entrusting with them the responsibility of managing your IT infrastructure is, therefore, a key business decision. Any wrong move in this regard can stall your business's growth, especially in Bethesda, where the competition is heating up every year.
You should take time to research your options and ultimately choose a Bethesda IT support company that best suits your business's needs. The information above can be a guiding force in your quest for the most suitable one. Best of luck!
If your business's growth is stalled due to complex IT challenges, you can benefit immensely from IT support. Let's find out together how they can help.