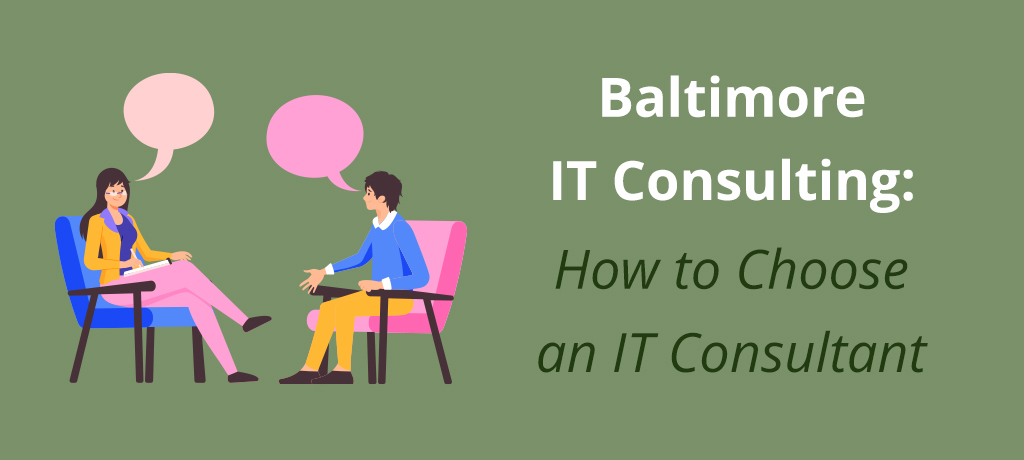 A well-managed IT infrastructure is essential for businesses of all sizes. The right technology enables a company to be more productive, achieve success, and grow.
However, IT is constantly changing and requires constant upkeep. Many small to mid-sized business owners cannot dedicate the time or resources needed to maintain and protect their IT infrastructure all on their own. Therefore, they often need a little guidance.
That's where an outsourced IT consulting team can be a great asset.
IT consulting services, provided through a third-party IT support company, give businesses access to experts who advise on better IT solutions. An IT consulting team will help companies design an IT strategy, meet security and compliance standards, optimize their IT infrastructure, and more.
There are plenty of up-and-coming businesses in Baltimore, the most populous city in Maryland, that could benefit from IT consulting services. Many new businesses have opened in the city, creating a more competitive market. Companies in this area need to stay on top of their IT infrastructures - which an IT consulting team can help them do.
Do you need some advice when it comes to managing the technology for your Baltimore business? Here's everything you need to know when looking for an IT consulting service.
What is IT Consulting?
Before diving into how IT consulting can benefit your business and tips for finding the right provider, let's discuss what IT consulting is and why it matters.
An IT consulting team will do exactly as their name suggests: consult your business on all things IT-related.
They are trained to analyze your IT infrastructure, spot weaknesses, and suggest solutions that improve performance and align with your business goals. An IT consulting team will also provide IT training for your employees, help you develop an IT strategy, and coordinate implementation when you adopt new solutions.
In short, your outsourced IT consultants will work directly with your team to improve your technology's functionality, security, and overall performance.
How Can Baltimore IT Consulting Service Benefit Your Business? 
Now, let's look at a few of the ways that a Baltimore IT consulting team can benefit your business.
Access to Better IT Solutions
Working with IT consultants will allow you to access cutting-edge IT solutions that improve IT performance and are reliable. Often, these solutions are ones you did even know your company needed.
Your IT consulting team will conduct a thorough assessment of your IT current infrastructure and provide an IT road map of areas that require improvement. If they discover a weak point, they will recommend a plan of action to strengthen your IT systems.
Any worthwhile Baltimore IT consulting service will not try to upsell you on costly IT equipment or upgrades your business doesn't need. Instead, they'll work within your budget and deliver solutions that will improve your IT performance.
Improvements to Your Cybersecurity Posture
Did you know that an estimated 83 percent of small to mid-sized businesses are not financially prepared to recover from a cyberattack? This is an alarming statistic when you consider that cyber criminals frequently target SMB.
An excellent Baltimore IT consulting service will help protect your IT infrastructure by conducting IT security audits and recommending advanced, multi-level security solutions. These defenses will actively shut out unauthorized users and malicious attacks from your IT systems.
Your IT consultants will also ensure your company stays compliant with any IT security standards your business needs to abide by legally.
Effective IT Training for Employees
Lastly, your Baltimore IT consulting team can provide IT training directly to your employees. Since an estimated 95 percent of all cyberbreaches are directly related to human error, this is an important service that may save your business in the long run.
Your IT consultants will train your employees to stay safe online. This includes teaching them to avoid common online threats, such as phishing scams and sketchy URLs. IT training will also highlight the best IT security practices that your employees should apply when using company IT equipment.
Additionally, an IT consulting team will train your team to use new processes and tools whenever you adopt new solutions. This will boost efficiency when adapting to changes.
Qualities to Look for in a Baltimore IT Consulting Service
Not everything Baltimore IT consulting service is the same. Some will be a better fit for your company than others. That's why it's essential to research your options thoroughly before selecting a provider.
Here are a few qualities to look for in an outsourced Baltimore IT consulting team:
1) Expertise in Your Industry
All credible Baltimore IT consulting teams will have some technical expertise, but they might not be able to offer IT solutions tailored specifically for your industry.
A good IT consulting service will be well-versed in the latest IT trends of your industry, such as compliance standards and common IT threats. This knowledge will help IT consultants better serve the specific IT requirements of your business.
2) Excellent Communication & Advisory Skills
Your IT consultants must possess excellent communication skills. They'll need to explain concepts clearly and maintain open lines of communication throughout the IT assessment, planning process, and implementation stage.
Therefore, they should not speak in IT jargon that you don't understand. Rather, they should use clear, plain language that you and your non-technical employees can follow.
To get a feel for how a team of IT consultants communicates, try consulting with them over the phone. If they can clearly explain IT concepts and strategies with you, it's a good sign.
3) A Proven Track Record
Finally, an IT consulting team should have a proven track record of success with other Baltimore businesses.
That's why it's a good idea to look up reviews and testimonials from a provider's past clients before hiring an IT consulting team. What others have to say about an IT consulting service can be very revealing.
Keep in mind: Baltimore IT consultants should be proud of their past IT successes. So, if a provider tries to hide any evidence of IT work they've completed (even upon request), it's a red flag.
In Conclusion
As you can see, the right Baltimore IT consulting team can offer a wide range of benefits to your company. They'll deliver IT solutions that improve performance, cybersecurity, and your overall operations - while allowing you to remain in control of final decisions.
How can your business benefit from Baltimore IT Consulting? Let's find out together.