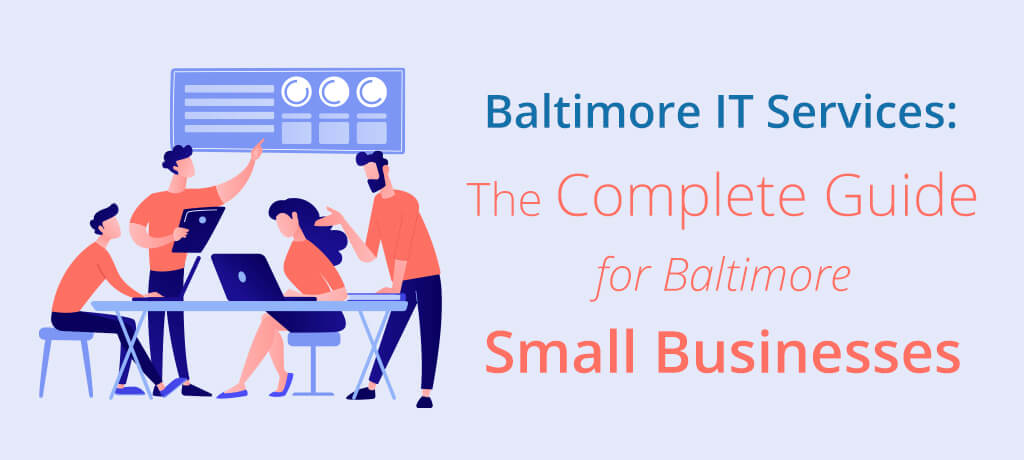 Besides charming views, quirky festivals, and one-of-a-kind attractions, Baltimore is known for its flourishing small business community. The city offers multiple incentives to budding entrepreneurs, including tax credits and assistance programs. In fact, Baltimore ranked 38th on Inc's list of the 50 best places to start a business.
Also, the Baltimore Micro Loan Fund, an incentive of the Baltimore Development Corporation, provides small businesses with capital for fixtures, machinery, and equipment, among other things. The BDC is the economic development agency for the City of Baltimore.
While Baltimore's business-friendly ecosystem is well-suited to SMBs, it also paves the way for intense local competition. Utilizing your enterprise's technology in smarter ways can help you stay one step ahead of your competitors.
If you're unsure about how to fully leverage your technology, a competent Baltimore IT services provider will assist you.
But before we discuss the benefits of IT services, let's first dive into what the term implies.
Managed IT Services: What Do They Mean?
Managed IT services refer to the ongoing support your business receives from an external IT provider. In other words, once you outsource your IT operations to a tech company, they manage your IT infrastructure for a fixed monthly fee.
Here are a few examples of managed services most IT providers offer:
 IT Support Services
Network Security Management
Networking and IT Infrastructure Management
Telecommunications
Data Backup and Recovery
IT Project Management
Database Administration
VoIP Telephony
Spam Protection
Desktop Support
Who Can Use Managed IT Services?
Most SMBs join forces with a managed IT services provider to fill the gaps in their tech infrastructure. As small businesses often do not have the financial means to invest in a full-fledged IT department, they hire an external firm to handle their technology needs for them.
That said, SMBs with in-house IT teams can also benefit from managed IT support. You can free up your internal IT staff by outsourcing routine tech-related tasks to the MSP. This way, your internal team can focus on high-return business operations, such as improving customer support/service or creating new products.
Why Do You Need Managed IT Services in Baltimore?
Baltimore's tech industry is flourishing. Local software enterprises and hardware manufacturers have made it possible for a wide variety of technology to emerge from the heart of the city.
While it's easy to source new technology in Baltimore, you may not need every latest IT feature and functionality. A Baltimore IT services provider can help you identify the tech innovations most suitable for your small business. With the right tech on your side, you can:
Ramp up your daily productivity and efficiency, thereby achieving higher revenue.
Prevent wasteful spending by managing your financials better.
Collaborate with different marketing channels to build your brand.
Improve coordination between different teams.
Enhance your relationship with customers.
Here are a few other ways in which an MSP can help your business.
Help Reduce Labor Costs
The cost of labor and payroll is a substantial expense for small businesses. In Baltimore, the average base salary of a computer technician is $15.77 per hour. Hence, if you're thinking of setting up a full-fledged IT department with multiple IT engineers, you may risk overshooting your budget.
With a managed IT services provider, a team of highly qualified technicians takes over your IT management. They maintain your systems and recommend appropriate IT solutions when required. As a result, you gain access to quality IT expertise without having to add new hires to your payroll.
Provide Proactive Maintenance
Organizations tend to put off proactive maintenance when their IT infrastructure runs smoothly. However, your network and servers require regular maintenance to function at full capacity. Unchecked performance issues can quickly snowball into significant problems, leading to productivity and financial losses.
Firms offering IT services monitor and manage your tech infrastructure 24/7/365. They check for potential problems across your antivirus programs, data backup processes, firewalls, network processes, and disk spaces, among other tech components. This makes your internal systems more reliable and minimizes downtime.
Help Fortify Your Network Against Security Threats
According to Cybersecurity Ventures, if cybercrime were a country, it would be the world's third-largest economy after the US and China.
SMB owners across industries need to arm themselves against the growing threat of cyberattacks. However, cybersecurity is a complex subject with multiple variables. Small security gaps can easily escape the untrained eye and leave your network vulnerable to a breach.
This is why you should let professionals handle your network security. Hiring an IT firm that specializes in cybersecurity is a smart way to keep your enterprise secure and protected. A competent and well-established IT support provider will use competent cybersecurity tools to safeguard your network against external and insider security threats.
Guarantee Better Uptime
Distinguished IT services companies have uptime guarantees written into their Service Level Agreements (SLAs). When the MSPs monthly uptime guarantee falls short of the threshold mentioned in the contract, their client is entitled to compensations. Such incidents can also cost the MSP its reputation, putting it at a significant disadvantage in a highly competitive market.
Hence, managed IT providers will pull all the stops to ensure that your monthly uptime satisfies the estimates in the contract.
Help with Disaster Recovery
There's no way to completely avoid a natural disaster. But an MSP can help you prepare for one to prevent downtime and data loss.
Most MSPs have a Backup and Disaster Recovery (BDR) solution in place to protect their clients' business data against cyberattacks, system failures, terrorism, and similar catastrophes. The MSPs quickly back up your data to a secure location, keeping it accessible to authorized users. Once the situation stabilizes, the MSP recovers the data to avoid long-standing business interruptions.
Enable Enhanced Cloud Management
SMBs thinking of moving their businesses to the cloud need to consider their cloud management options. While many IT teams volunteer for the job, it may not be the most viable option for your enterprise.
A managed services provider will design an appropriate migration path for your business. They will also help with cloud integration, management, reporting, and monitoring.
Keep You Focused on Your Business
Knowing that you have a competent team of professionals catering to your IT needs behind the scenes can keep you focused on what you do best- running a business. You will also receive ready IT consultations from the experts on your MSP team. As a result, you won't have to spend hours researching new technology.
How to Find a Suitable Managed IT Services Provider for Your SMB
A few key factors separate the great managed IT services agencies from the good ones. While you're on the lookout for expert IT services Baltimore, seek an MSP that:
Has a Strong Reputation
An MSP with a proven track record is likely to deliver the results it promises. Once you set your eyes upon an IT organization, gauge their market presence through their portfolio and list of clients served.
You can also check neutral websites for honest consumer reviews. Knowing what other people have to say about your potential MSP can help you understand their capabilities and service quality better.
Uses the Latest Technology
MSPs usually have the latest tech tools in their arsenal, but a few have not been able to push past legacy systems. Hiring an IT company that runs on old technology can affect your productivity in several negative ways.
Instead, opt for an MSP that is up to date on the technology front. This way, you will be able to leverage new and improved tech advancements for your business, without investing in them yourself.
Has Enough Certifications and Experience
At the end of the day, IT support is a highly technical job. That's why you will benefit from hiring an IT firm that has an array of certifications in its bag. Such certifications will clearly showcase the MSP's technical abilities, as well as their key strengths.
Also, an IT services provider with enough experience in your industry will be able to implement tried and tested solutions for a variety of problems.
Offers Continuous Onsite and Remote Support
Technology does not sleep. A reputable managed services provider should be available to address and resolve technical issues regardless of time and day.
In some cases, you may require onsite support for a system issue or an audit. Be sure to include these in your plan so that you do not have to pay extra for onsite visits.
Takes an Active Interest in Your Unique Need
A competent MSP will try to understand your business's operations, goals, and challenges by asking probing questions. This will help them formulate an appropriate and effective IT strategy for your business. A managed IT services provider who knows where your business stands and where you want to take it will be able to streamline your technology more efficiently.
Insists Upon Proactive Maintenance
Always invest in a farsighted MSP who believes in mitigating risks before they arise, instead of dealing with the aftermath. An MSP using remote monitoring tools will spot and remove problems before they disrupt your business. They should have well-established disaster recovery plans to ensure business continuity in the event of a widescale disaster.
Conclusion
MSPs often find favor with small businesses due to their cost-effectiveness. As an affordable alternative to the in-house IT model, a competent MSP will cater to your IT requirements without breaking the bank.   Also, their team of expert professionals from various IT fields can streamline your business's tech policies, enabling you to you make the most of limited technological resources.