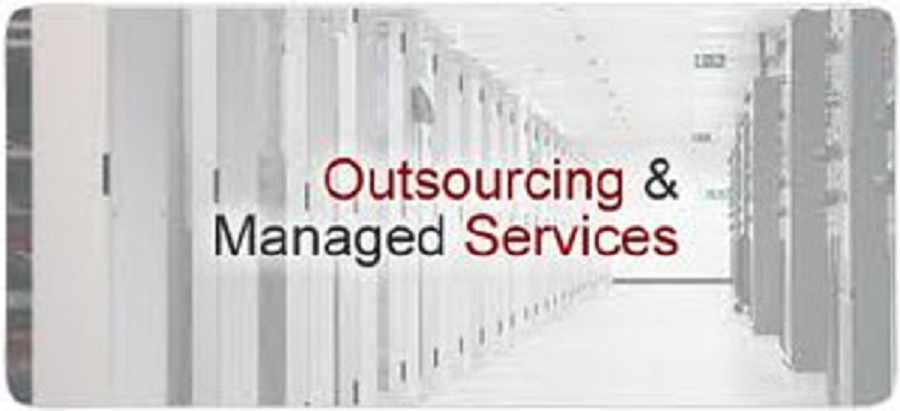 It won't be wrong to say that outsourcing has become increasingly common among businesses across the globe. The global IT outsourcing market is expected to grow by $98 billion U.S dollars between 2020 and 2024 at a CAGR of 5%.
In fact, the global managed service market has reached more than 200 billion US dollars in 2020. Further, the revenue for global Managed Service Providers (MSPs) has already reached $170 billion US dollars and is expected to grow at 12% each for the next 5 years.
From managed IT services and cybersecurity to spam protection and data backup solutions, outsourcing IT services can help organizations do it all. You can also leverage these functions and grow your business by hiring an experienced managed IT service provider.
Let's find out more.
What Is a Managed Service Provider?
A managed service provider is a third party that provides remote desktop services to businesses. It works as a computing framework platform for businesses and manages a customer's IT infrastructure and end-user system remotely.
Simply put, organizations hire MSPs to outsource the authority of managing and foreseeing requirements for a plethora of IT processes and functions. These include cloud computing services, managed IT security, IT infrastructure, and so on.
They help organizations develop their IT operations while reducing their expenses. MSPs provide their services under a service level agreement. This contractual agreement takes into account performance and quality metrics to govern the relationship.
What Are the Functions of a Managed Service Provider?
Managed service providers are an extension of the client's IT department and play an important role in improving the workflow. They also help fulfill your organization's goals with its dedicated and continuous efforts to improve your IT operations and enhance productivity. Moreover, they work to fortify your cyber networks to mitigate anticipated as well as present-day security threats such as phishing, ransomware, DDoS attacks, password hacks, and so on.
Here's a detailed look at their various functions:
MSPs have cybersecurity specialists who protect and safeguard an organization by making use of high-end security software along with spam/scam protection program, intrusion detection and prevention systems, and anti-malware defense strategies.
Backup and Disaster Recovery:
MSPs make use of their Disaster Recovery Plan to mitigate the risk of data loss and downtime that may happen because of natural disasters. For this, they work towards data replication and provide redundant cloud backup solutions.
MSPs help businesses create a migration path to move their few computing functions to the cloud and reduce their capital expenditure.
MSPs cater to issues related to PCs, servers, local area networks, software, and printers. They make use of remote desktop services to provide instant solutions while minimizing business disruptions.
As a reputed provider of managed IT services in Washington DC, we understand your requirements and can help you pave new avenues for success with our dedicated services.
What Are the Benefits of Outsourcing IT Services to a Reliable MSP?
Let's take a look at the key benefits that businesses can get by outsourcing IT support to an MSP:
1. Offers a Cost-Effective Approach
Managed services can help businesses cut costs considerably. With managed service providers, your cost comes in the form of a set amount that you can pay on an annual or monthly basis.
MSPs not only provide regular maintenance but also cater to the network's repairing and replacement needs as a part of the contract. This means that the maintenance that may cost you a lot of money is taken care of by the provider.
As a result, MSPs save you from extreme budget fluctuations while improving the overall stability of your business. The up-front payment is low, which makes MSP a cost-effective solution to your IT issues.
2. Enables Easy Scalability
With growing technological advancements, businesses are bound to scale their resources as per the demand. Managed service providers can assist you in expanding and upgrading your systems by exploring and determining ways for improvement. MSPs understand the technical pain points of your business and help you achieve meaningful and sustainable growth by improving system availability and eliminating detrimental downtime.
3. Allows You to Focus on Core Business
It is a known fact that time is equal to money in the business world. Outsourcing IT services to an MSP allows businesses to concentrate on the core organization activities without having to worry about complicated and recurring IT issues such as data security, data backup, hardware and software complexities, and so on.
Further, managed service providers help businesses by redesigning IT workflows, upgrading equipment, and automating various tasks. Because the pressure of managing the daily IT processes is taken off their shoulders, businesses can run with higher efficiency and innovation.
4. Improves Vendor Management
Sometimes, organizations work with a plethora of IT vendors, who provide services of their own. These services include anti-virus solutions, email security, web hosting, hardware maintenance, and more. This can be perplexing in the long term.
It is a better idea to work with an MSP that can serve as a single point of contact and communicate with high-quality vendors on behalf of the business. MSPs make sure to simplify and solve any prevailing business issues immediately, thereby streamlining the entire business process.
5. Reduces Risk
Businesses, especially small and medium ones, are constantly at risk of losing data and network security due to power outages, computer failures, software issues, and data loss. However, with their impeccable knowledge on security and compliance, MSPs can easily manage risks involving data breaches, third-party hacks, and more on behalf of a business.
6. Provides Proven Expertise
It is important to remember that while almost all MSPs can keep a network running, it takes consistent, dedicated, and significant effort to keep networks prepared for current-day threats. A good MSP can provide specialized services and fill any gaps prevailing within the in-house team of a business.
In order to manage complex security threats such as cloud jacking, targeted ransomware attack, mobile malware, and more, MSPs keep their security offerings top-notch. Since they work in a dynamic industry, they have a team of experts who are experienced in solving complex issues on a daily basis.
7. Ensures Seamless Compliance
A business needs to keep its data secure through a variety of designed regulations. Some of the widely applicable standards include the Payment Cloud Industry Data Security Standard (PCI DSS), Health Insurance Portability and Accountability Act (HIPAA), and so on.
In case a business violates these standards, they won't only be fined a hefty amount, their reputation will also get damaged. You can counter these issues by allowing an MSP to handle the complications of IT compliance and auditing.
8. Facilitates Preventive Approach
System attacks on a business's network is a critical issue. The cost of a cybersecurity breach can cost a business millions of dollars and put a dent on their budget. It, therefore, becomes crucial to be ready beforehand rather than panic and rush to call in the experts after a security breach takes place.
With the help of remote monitoring technology, MSPs get real-time alerts. They keep a watchful eye on a business's network and data at all times. Their managed cybersecurity solutions and services can be leveraged for proactive implantation of preventive measures. They monitor your systems and networks for issues before they arise and resolve them before they turn into catastrophic disasters.
9. Provides Round the Clock Support
MSPs monitor and scrutinize a business's infrastructure 24/7 with on-call support. They also offer stand-by outsourced IT support to monitor and manage the seamless functioning of your business. Such high-end infrastructure maintenance for any issue will immensely benefit business while providing them stability.
10. Access to the Latest Technology
MSPs provide organizations with access to the latest technology. They make sure that your business's system is updated regularly. From equipment upgrades to new infrastructure management, MSPs do it all. They also provide cloud computing services by automating the client's cloud infrastructure.
Wrap up
Outsourcing IT services through an MSP is a cost-effective way for businesses to enhance their competitiveness. An efficient MSP can help you manage your IT network seamlessly. They can help prevent issues beforehand. Whether you are looking for high-end security or want to incorporate updated technology in your business, all you need is a reliable MSP and you will be good to go. All in all, managed service providers work as third-party experts and provide superior IT services, while also ensuring the growth and development of your business.