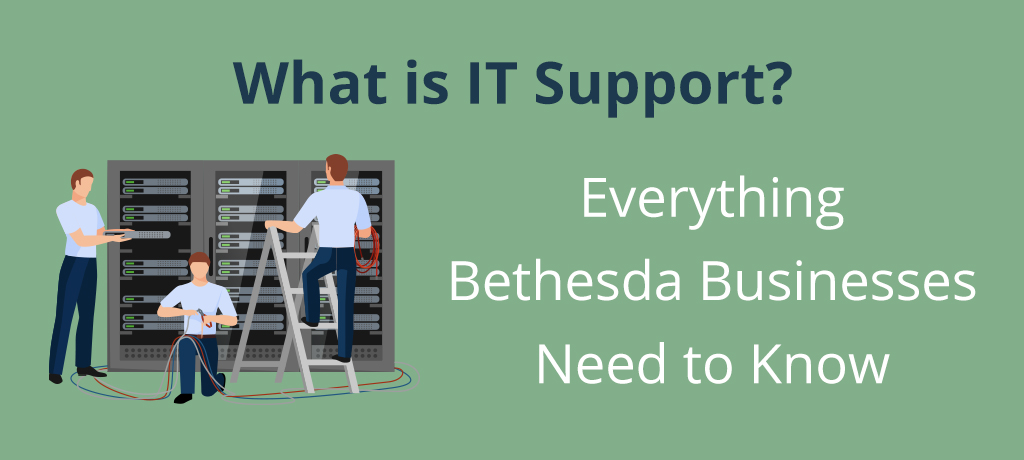 Bethesda's flourishing business ecosystem welcomes aspiring entrepreneurs with open arms. The city's geographical amenities and sustainable prices, coupled with Maryland's profitable tax incentives, make it a great place to launch a business. Plus, The Greater Bethesda Chamber of Commerce provides new owners with counselling, loans, and grants, among other things.
Although this is fortunate for SMBs striving to hit it big in the market, it certainly paves a path for intense competition.
Needless to say, you'll have to bring your A-game to win this race. Thankfully, the right technology can help you do this with ease.
However, acquiring the latest tech is one thing, maintaining it is another.
You may feel tempted to do everything yourself to save precious overhead. But managing the technology infrastructure of a growing business can easily take you away from your core responsibilities and plunge you into an endless cycle of IT problem resolution.
To prevent this, you need skilled technicians who can cater to the tech side of your business. This is where an IT support team comes in.
What Does a Tech Support Team Do? 
Usually, IT support technicians are only associated with fixing technical glitches. They are the people you call when programs act up and systems need updating.
But in reality, they do much more than this. A tech support team:
Works as the first (and presumably, the last) line of defence against cybersecurity incidents.
Installs and configures hardware, software, networks, printers, and scanners.
Evaluates new technology.
Replaces legacy systems/programs with upgraded versions.
Every business needs a well-functioning IT department to grow and thrive. But for most SMBs, recruiting permanent IT staff may prove to be a herculean task. It's easy to see why.
The Problems with Setting Up In-House IT
Although IT labour is important, it isn't always readily available. The tech talent shortage in the US is at an all-time high. Furthermore, retaining employees is a substantial challenge for many businesses. Recent data from the US Bureau of Labor Statistics suggests that in April, the quitting rate rose to an astounding 2.7%.
To top that, Bethesda IT support technicians charge an average of $64,413 every year, a tall order for SMBs trying to find their feet in the market.
Given these reasons, the prospects for small business tech support may seem bleak. That is until you discover managed IT providers.
An Introduction to Managed IT Providers
Managed services providers, or MSPs, are external tech teams that substitute (or, in some cases, work in tandem with) your internal IT department. They take charge of your tech management, ensuring your IT infrastructure works smoothly. In addition, they look after:
Network Security.
Data Compliance.
Data Backup/Recovery.
Database Administration.
Server Virtualization.
Cloud Computing.
The Many Perks of IT Outsourcing
Most small businesses are drawn to managed IT providers due to their reasonable pricing models. MSPs usually charge a flat monthly fee for their offerings. There are no collateral expenses: you only pay for the services you need.
However, cost-efficiency isn't the only thing an MSP brings to the table. Partnering with an IT support company comes with several other advantages, a few of which include:
Robust Network Security
It's difficult to navigate the digital landscape without falling prey to cybercrime. Small businesses serve as a lucrative target for hackers, primarily due to their lack of strict defense protocols.
Below, we list a few reasons why cybersecurity incidents are dangerous:
A security breach can damage all the essential data stored on your desktops, effectively rendering them useless.
Dealing with a cyberattack can take a severe toll on your capital. Apart from bringing your business to a screeching halt, the perpetrator may demand a hefty ransom in exchange for your sensitive business data.
Existing customers can take legal action against you for putting their personal information at risk.
Potential clients may avoid associating with you, believing you to be careless about safety.
As a small business owner, you may not have the expertise, skills, or experience to secure an enterprise-grade network on your own. Plus, a faulty cybersecurity plan is not a slippery slope, but a jump off the cliff. A single misstep can leave your entire business vulnerable to a cybersecurity disaster.
An IT support firm will assign experienced cybersecurity specialists to take care of your network security. Also, they will install and maintain advanced security software, such as:
Spam Protection Programs.
Intrusion Detection and Prevention Systems.
Enterprise-grade Antivirus Programs.
Help With IT Project Management 
Is your internal IT team ready for large-scale data migration or network redesign projects? Moreover, do you have the necessary tools to set such a project in motion?
If not, you should consider hiring an IT support agency specializing in these areas. Outsourced IT specialists can fill competency gaps in your internal team, executing the project within timelines and budgets. Also, these tech experts will help you make appropriate IT investments that align with your ever-evolving business needs.
No-Holds-Barred Disaster Recovery Planning
No business is immune to natural calamities. And, although you can't predict an act of God, you can certainly prepare for it.
Unless you want to close down after a widescale catastrophe, you'll need to have a concrete backup and disaster recovery (BDR) plan in place. But creating and implementing an effective BDR strategy is a time-consuming, labor-intensive task, one that can easily eat into your work time.
Distinguished MSPs offering Bethesda IT support take active measures to minimize data loss and downtime in the event of a disaster. A few of these steps include:
Offshore Data Replication.
Redundant Cloud Services.
Round the Clock Monitoring/Assistance.
Regular Reporting.
Quick Restoration of Backup Files.
Enhanced Business Focus
IT may be the backbone of your enterprise, but it's probably not your main offering. If you're constantly fighting tech fires, you will hardly have any time to focus on your actual business.
Outsourcing your IT will enable you to dedicate more time and resources to your core services. With the external IT support team monitoring your tech network, you won't have to keep an eye out for impending tech troubles. Moreover, they'll also free up your internal IT personnel to focus on other, more central areas of your business.
Maximum Uptime
No one is immune to the costly nature of system downtime. A single hour of downtime can cost SMBs (with 200-500 employees) nearly $100,000 in lost revenue, as per an ITIC survey.
But that's not all. Frequent downtime can frustrate your employees and affect the quality of their work. It can cause you to miss significant business opportunities, disappoint your client base, and shell out for penalties.
To prevent these hefty repercussions, IT support teams take active measures to optimize your systems, so as to keep downtime to a minimum. Plus, they monitor your network 24/7/365 to mitigate threats before they can inflict damage.
Things to Consider When Choosing an MSP in Bethesda
Managed IT providers are a dime a dozen, but if you think all external IT agencies are cut from the same cloth, think again. Although there are plenty of Bethesda IT support providers, only a handful may offer the solutions you're looking for. You must do your homework to find one most suited to your specific needs.
Here are some criteria you should keep an eye out for when selecting an IT support agency.
Skills and Experience 
Any MSP worth their salt will have skills that go beyond basic software maintenance, installations, and upgrades. In other words, they should offer a few advanced functions that can improve and streamline your existing IT infrastructure, especially if you have plans to expand your organization.
Furthermore, look for Bethesda IT support agencies that are at least a few years old. Managed IT service is a competitive battleground where only the mighty survive past the initial phase. Plus, an established IT firm is more likely to know the nuances of tech management.
Cloud Support
During the first months of the pandemic, 91% of enterprises ramped up their usage of cloud services, according to Veeam's 2021 Data Protection Trends report. Also, 96% of organizations expect to facilitate faster cloud solutions in 2021.
It's no secret that the cloud is gaining traction with enterprises of all types and sizes. As a result, it's in your best interest to seek an IT support firm that's proficient in cloud management. From migration planning to monitor/reporting, they must be able to handle multiple cloud functions with ease.
Round the Clock Availability
Most IT problems arrive unannounced. A good MSP will know this and cover your systems continuously. They will also have dedicated plans to address and mitigate different IT issues as and when they occur.
Try to find an IT support agency that takes a proactive approach to IT management. They should be able to identify and solve problems before they take life and throw your workflow off balance.
Security Practices
Reputable MSPs will use a range of advanced cybersecurity tools to prevent a debilitating cyberattack from leaving your business in ruins. Before you delve into any negotiations, take a look at the IT support provider's website to gauge their cybersecurity posture.
Industry Knowledge
MSPs can play a big role in keeping you compliant, but for this, they will have to know your industry like the back of their hand. Try to find an MSP that has experience working with other clients in your sphere. This way, you'll know they have industry-specific IT solutions in their arsenal.
Wrapping Up
If you're prone to losing sleep over IT troubles, you should consider hiring an external IT company to deal with them. MSPs have both the skills and expertise to maximize the potential of your IT infrastructure, ensuring you have all the leverage you need to go up against the giants in your market.
Are you seeking competent IT support for your SMB in Bethesda? Let's talk about how Solve Ltd.'s tech management services can help your business.