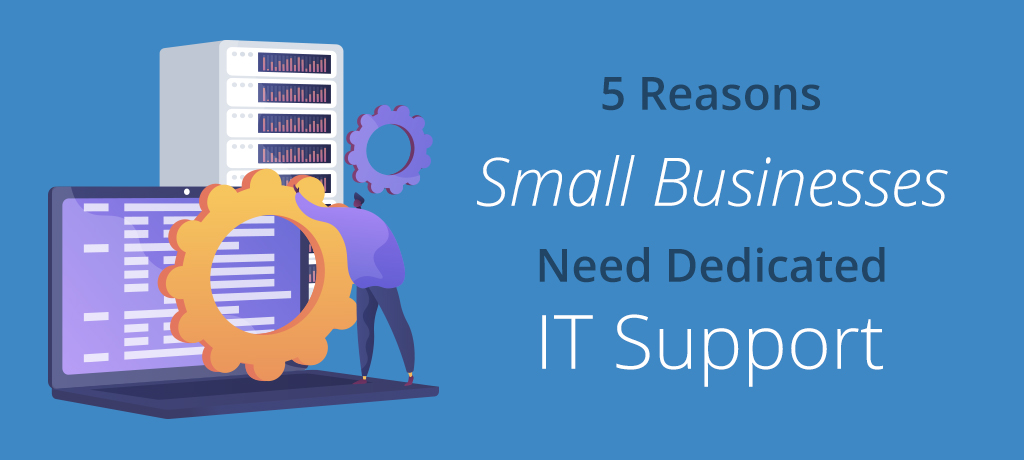 The implementation of the latest technologies enables businesses to stay relevant in their industry. However, technology may fail businesses in the absence of a competitive IT landscape.
Most small businesses tend to overlook the need of maintaining an in-house IT team due to inadequate funds and expertise. This results in inefficient IT systems and technology strategies that are disconnected from organizational goals.
This technological gap is bridged by an IT support company. They take complete charge of cybersecurity, software and hardware updates, data protection, and more. Also, they make sure that the business adheres to all applicable industry-related compliance regulations. In other words, an IT support company serves as an outsourced IT department for small businesses, at a fraction of the price.
Here are a few reasons why small businesses need dedicated IT support.
1. Enhances Cybersecurity
The aftermath of a cyberattack may hit small businesses particularly hard. It results in the loss of critical business data, revenue, and credibility in the industry, and may even disrupt company-wide operations.
Small businesses should, therefore, adhere to cybersecurity best practices. This helps identify vulnerabilities and plug loopholes, thereby mitigating cyber risks.
An IT support company helps small businesses implement the following cybersecurity measures:
a. Installation of Firewalls
IT support companies install firewalls in the company's IT network at entry points like an internet cable or a DSL connection.
Firewalls analyze incoming network traffic while blocking malware and preventing unauthorized access.
b. Implementation of Password Policy
A strong password policy acts as the front line of defense to safeguard critical business information. An IT support provider formulates and implements a stringent password policy that stipulates the following:
Each password should include a minimum of 15 characters
It should have at least four different character types like uppercase letters, lowercase letters, numbers, and symbols
A minimum password age is determined to set a fixed duration before which the password cannot be reset
A maximum password age is determined, after which the password needs to be changed mandatorily
c. Incorporation of Role-Based Access to Sensitive Information
IT support companies implement role-based access to limit the exposure of critical business information. Access is provided only to the data required by users to complete their job-related tasks.
d. Adherence to Multi-Factor Authentication
Multi-factor authentication is an additional layer of security that protects critical business information. Reports reveal that 70% of small business owners are concerned about employee passwords being stolen or compromised. This concern can be addressed by adding another verification factor, like the thumbprint of authorized users. It helps improve account security and reduces risks.
2. Offers Scalability of Resources
Small businesses should be able to scale their IT resources based on their emerging needs to stay competitive.
IT support companies provide scalable technical solutions. For example, consider a customer support center that needs additional phone lines to meet a seasonal spike in inbound calls. To meet this temporary need efficiently and cost-effectively, the business owner can avail of VoIP technology from a local IT service provider. The number of phone lines can then be easily increased based on the requirement. The owner may size down to the original number of phone lines once the number of calls returns to normal.
The best part is that business owners can scale up and down IT resources based on the IT support provider's pay-as-you-use model. This means the business will need to pay only for the additional phone lines used during the stipulated period of high demand. The ability to scale resources, therefore, helps small businesses meet their technical needs without going bankrupt.
3. Provides 24/7 Monitoring and Support
IT networks are susceptible to unexpected technical malfunctions like server crashes. It is important that businesses continuously monitor their IT infrastructure for anomalies. Prompt redressal of technical issues prevents disruptions and downtime.
An IT support provider monitors IT networks 24/7. This enables them to anticipate bottlenecks and take proactive measures to prevent or minimize their impact on the business's operations.
Furthermore, businesses can contact IT experts at any time. Technical concerns are dealt with promptly through expedited solutions.
4. Offers Desktop Support
Facilitating patch management, desktop support, and end-user support can consume high volumes of resources, which may be impractical for small businesses.
Managed IT service providers offer desktop services that improve computer security and performance. They continually monitor the computers and laptops in the business's IT network, conduct periodic health checks, and manage security alerts.
Furthermore, remote desktop support services promptly address technical issues, minimizing business disruptions.
A few other desktop services provided by IT support companies are:
Day-to-day end-user support
Deployment of appropriate desktop hardware
Installation of anti-malware and antispyware software
5. Provides Customized Packages
Managed IT service providers possess vast technical experience. They routinely deal with clients from various industries and different types of IT ecosystems. IT companies understand that every business has its unique technology needs.
IT support providers start by conducting a detailed evaluation of the business's IT landscape. Further, they consider various other factors like the business's industry, size, and budget. They use this knowledge to recommend suitable and effective solutions that best fit the business's specific needs.
This systematic approach enables IT support providers to deliver customized IT service packages to small businesses, rather than offer generic solutions that may not be as effective.
Wrap Up
Managed IT support providers play an important role in helping small businesses maintain their IT infrastructure. Most small businesses may ignore the need to implement cybersecurity best practices and overlook network monitoring. However, IT support providers back small businesses with the required IT support, enabling them to stay competitive and relevant. Hopefully, the above-mentioned points have helped you understand the need for dedicated IT support for small businesses.
Author Bio:
Rick Rudolph is the President of Solve LTD, IT Support Company. Since 1994 we have been providing expert technical services to the commercial sector. Each of our professionals has a minimum of 15 to 20 years of related IT experience. We continually train our staff so that you don't have to.